Hello new friends! I am so happy to be here with Rosie today. I have been loving her blog and everything that I've been seeing at Craftbotic. My name is Brooke, and I blog over at
Covered in Grace
. There, I write about life as a mother, student, military wife, photographer wannabe, writer and Jesus lover. One glance over the pages of my blog will reveal just how much I love the outdoors and all things summer. I have a laid back heart and am content to
just be
in warm breezes and long days with the people I love. You might also notice that I'm a little bit of a hiking nut.

Yes, I said it. I'm a freakin' fairy! Ha!
At least, that's what I feel like when I'm jumping off of rocks and blazing through the woods. Like I said before, I'm a military wife...which means that I have been fortunate to see my fair share of countries and cultures over the course of my hub's career. Right now, we've found ourselves landed on a gorgeous rock right in the middle of the Pacific Ocean... Hawaii! And let me tell you, the hiking possibilities are endless here!
You can check out all of the blogs I've written on hiking in Hawaii HERE.
Today, though, I want to show you some shots I took on a hike that I haven't written about yet.
The Kuliouou Ridge Trail Hike.
My hiking buddy, Michele, and I had attempted this hike a couple of months before, but ended up on the Valley Trail instead. Check out that link to find out how things went wrong! This time, though, we were sure of where we were going and took the families with us. I am so glad that my girls actually love hiking with me.

The hike was beautiful. We stared out by ascending the mountain via switch-backs through tons of pine trees and various other Hawaiian foliage. Pictured above are is my oldest daughter (left) and her friend.
After about an hour of forest-hiking, we finally broke out of the woods.
And then, the stairs began.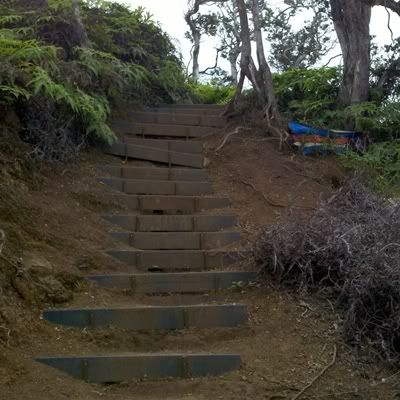 I swear, there were 800 million steps.
Holeeee sore butt the next day!
But it was worth it... because the views we started getting were phenomenal.
Pictures, of course, do not do these amazing views any justice.
I just can't get over the color of the water in contrast with the greenery that we made our way through. My daughter was such a good sport, stopping to take pictures when ever I wanted...which was almost every 3 minutes or so. Ha!
At the top, Michele and I stood proud, having finally made it to our original destination. That's Diamond Head Crater in the distance behind us.
The Beauty in Creation was evident from our vantage point on top of Kuliouou Ridge.
It just doesn't get much better than this!
I will definitely be heading back for another round of the crazy stairs before I leave this rock! Kuliouou is definitely a place to find peace on top of the world!
Well, I WISH I could share all 200+ photos that I took with you today, but that might be a bit of an overkill. =) Instead, I want to close up by thanking Rosie again for having me here today!! It was definitely my pleasure. You are a doll and I am so glad to have met you here in blogland. Xxo
Don't forget to give me a shout and stop on by Covered in Grace!
And while you're there, be sure to enter my Graduation Celebration Giveaway going on now!